Ni hao, guys! I recently went to Taipei, Taiwan because it's visa-free until July and I really hope my post will encourage you to visit this wonderful country because I really had fun when I was here and I can say for sure that I didn't want to go home!
We booked our flight with Eva Air, you'll surely know of it since their adverts are everywhere here in the metro.
Our flight was at 12 PM and we checked in at around 10 AM, boarding was around 12:30 and our flight became 1 PM. It was delayed due to air-traffic congestion.
Eva Air is well known for their cute Sanrio aircrafts so they sell Sanrio products at their Skyshop. I wanna book one of their Hello Kitty flights someday!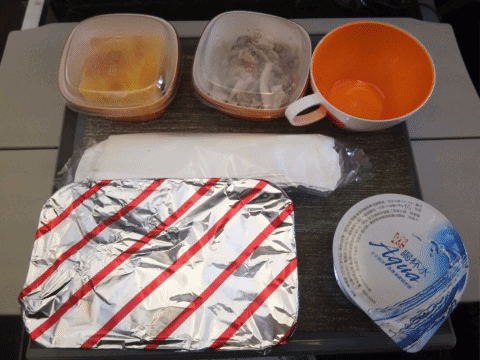 Their in-flight meal was yummy, they served Curry Chicken and Cheese cake on the side. The other side dish, I don't know what it's called. 
We finally arrived at Taoyuan International Airport, Terminal 2. Their airport looked nice but not as grand as I thought it'd be. My boyfriend said Terminal 1 looked more better compared to Terminal 2 as this was the old airport.
Obligatory airport photo lol
My boyfriend's brother, D came to pick us up and escort us to Taipei. If you're commuting from the airport to Taipei you can go take the Airport MRT, bus or a Taxi (though it is quite expensive, it'll cost you around 1000+ NT).
We got to our hostel at around 6:00 PM because we got lost going to Taipei, my boyfriend's brother just used Google Maps as he wasn't that familiar with the streets of Taipei since he works at Taichung and also the internet wouldn't cooperate. Our itinerary was ruined because of it, our original itinerary was:
Saturday > Airport (3:30/4:00)> Hotel (4:30-5:00) > Taipei 101 (5:15-7:30) > Elephant Mountain (8:30-10:00) >Rao he (10:30-12:00)
But with the situation we just had to go with Taipei 101, Ximending Night Market and Modern Toilet Restaurant that's just near Ximending.
Stopped by our hostel in Ximending to leave our bags, I took some photos with a film app as I really love experimenting with film apps recently.
We took a taxi to Taipei 101 and boy the weather was reaall colddd. It was around 16 °C and I am definitely not used to cold weather. Before going to Taiwan, D. warned us that the weather would be cold but I just shrug it off as I expected the temperature to be, I guess the same as Baguio. lol I regret that decision. Wag tularan. Bring winter jackets.
The price for Taipei 101's Observatory is 600 NT but there's a discount when you bring your passport with you.
This place reminds me of The Shoppes at Marina Bay, I thought I was transported back there! Deja Vu!
I love the interior of this place, it's so colorful and pretty!
This huge mass damper keeps Taipei 101 from swaying during Earthquakes
I don't have much photos of Taipei 101's Observatory as the weather wasn't really good and really foggy so you can't see anything up there and I was quite disappointed. It's better to visit in the summer or when it's not cloudy/foggy.
Next stop was the infamous Modern Toilet Restaurant. It's such a cute restaurant but it's kinda overpriced. I avoided ordering on what literally looks like fecal or urine (hehe! I have an overreactive imagination) as I might not eat it, I've watch one Youtube channel where the vlogger ordered a sandwich that was designed to literally look like Poo.
Last on the Itinerary for Day 1 was Ximending Night Market!
We're so glad that our hostel is near Ximending, this place is so vibrant at night, there are so many food stalls and cosmetics shops such as The Face Shop, Innisfree, Etude House and Sasa. The place is very similar to Shibuya and South Korea even though I haven't been there yet, if you watch K-drama's and Anime's you'll get what I mean.
This is where our Day 1 ends. Have you been to Taiwan yet? Would love to know! Share in the comments below! 😀